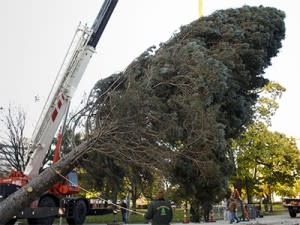 Believe it or not, its that time of year again! Yes it feels like summer just wrapped up, but we're looking right into the face of (hold your breath here to build the drama) THE HOLIDAYS! Well in the Greater Lansing area the holiday season is kicked off with Silver Bells in the City (Friday November 21st from 5 p.m. to 9 p.m.) and the lighting of the State Tree. On the big night a 63-foot blue spruce from the Upper Peninsula, chosen as this years state Christmas tree, will be adorned with lights and play guest of honor for this much-loved event.
The entire city will glow with thousands of lights for the annual holiday celebration, bringing together family and friends from across the state of Michigan and beyond to kick-off the holiday season.
Silver Bells in the City is a Lansing tradition that is loved by generations of families. Silver Bells in the City attracts over 80,000 people to the Capital City each year and takes place annually on the Friday before Thanksgiving.
The states 29th Christmas tree was delivered to the state Capitol on Nov. 1 from Kingsford in Dickinson County. This is the 20th time the state tree has been selected from the Upper Peninsula. Officials announced last week the tree will be strung with an additional 4,000 lights this year to mark the 30th Silver Bells in the City holiday celebration. People in the know say Capitol Avenue will be lit with an estimated 8,000 to 9,000 lights total. The scene will be magical as the evening starts with the Electric Light Parade and evening access to everyones favorite downtown restaurants, shops and pubs. Following the parade there will be the ceremonial lighting of the State tree followed by a captivating fireworks show high above the capitol dome.
Weve got a few weeks until the big event, but as you can see from these pictures the tree has been selected, delivered and is up and ready to party. Get your plans together now for the big night, the tree is ready - you should be too!