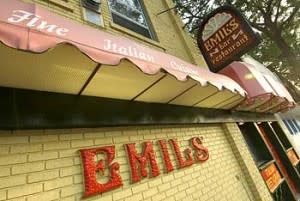 Its always hard when you have to say good-bye to an old friend. So its with a heavy heartthat Lansing says good-bye to its oldest family-owned restaurant EmilsItalian Restaurant. Located in the Eastside neighborhood of Lansing at 2012 East Michigan Avenue, Emils started out as a fruit and farm stand back in 1921 and has evolved into a traditional Italian restaurant and bar. Tales have been told of Al Capone periodically stopping by and occupying a favorite corner booth during his liquor runs between Windsor and Chicago. Im not sure if its true, but it makes for great dinner conversation. My favorite meal at Emils was the pasta pie. I dont think it was ever on the menu, mind you, but you could always order it on a Thursday. Delicious I tell you.
You have until Friday, October 30th to make it back to Emils before they close the doors. One more visit for old times sake, right? But never fear, they promise that you will be able to find sauces, soups and ready-to-eat items online and at various markets and that theyll be working out of the Allen Street Market Food Hub. Thank you for that. And all you historians and recorders of the present for future generations? Take lots of photos both inside and out. Then in a few years (or a couple of decades) we can all say wistfully, Remember Emils? Now that was a great little neighborhood Italian restaurant! Thanks for the memories.
Did you know that Greater Lansing offers over 150 things to do? With only 48 hours in a weekend, the clock is ticking. Download the LAN150 Bucket List to get started.