Planning a night out in Greater Lansing can be a real headache. Not because there's nothing fun to choose from but because there is so much to do that it's hard to narrow down the list. 
So that you don't endure the same ordeal, here is a primer to break through those walls of inactivity and plan your night out in some of Lansing's unique restaurants, night life and entertainment hotspots and other events happening around Michigan's Capital region.  
For a bite to eat: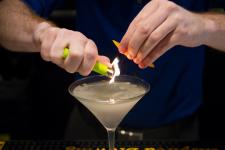 EnVie: New to the Lansing scene, EnVie, which opened in June at 210 S. Washington Square, has been quick to draw praise for its fresh French American menu that is delivered with great service. A stone's throw from the Capitol, EnVie's seasonally rotating menu offers generous portions of carefully crafted and stylishly plated meals to satisfy diverse palettes. Entrees feature steak, seafood, pasta and vegetarian fare while mouth-watering appetizers and pre-dinner cocktails and a long wine list will start a memorable night out.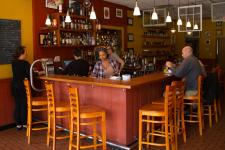 Soup Spoon Café: This eastside destination is hardly hidden – it's situated next to Sparrow Hospital and a quick trip from downtown at 1419 E Michigan Ave. – but once discovered the home-style cooking will have you craving more. Don't let the name fool you, beyond daily offerings of soups, Soup Spoon has a menu to rival any restaurant from full courses to small plates and sandwiches. The café relies on local farm to table meats, cage-free eggs and other artisan creations to anchor its menus for breakfast, lunch and dinner. A deep wine selection, craft tap list and cocktails complement this Michigan-centric eatery. Soup Spoon occasionally hosts tap takeovers with Michigan based brewers like Shorts Brewing among others.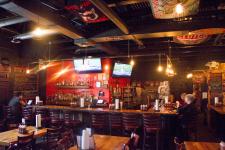 Meat. BBQ & Carnivore Cuisine: Prepare for gluttony, and I mean that in the most favorable light possible. As the name would indicate, this Lansing Old Town heavyweight, at 1224 Turner St., is a carnivore's dream, a place where pork, beef and poultry are slow-cooked for at least 18 hours and make for a tender fall-off-the bone deliciousness. Before gorging on the main course, Meat guests can belly up to the french fry bar for hand-cut taters that are smothered in gravy, cheese, bacon and more. Meat cuts to the bone for metalheads as hard rock reverberates from the cozy wood décor. 
For drinks: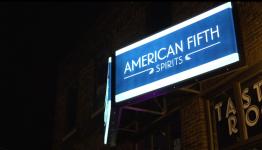 American Fifth: This award-winning distillery is across the street from Cooley Law School Stadium and gives a glimpse at the developing craft spirits industry in Lansing. An urban vibe from exposed brick walls and large glass windows create an open atmosphere despite a relatively tight space. The creative drink menu, which can top 30 handmade cocktails, largely turns over monthly, giving guests a chance to find a new favorite with every visit. Vodka, gin, whiskey and rum are the backbone of refreshing drinks enjoyed amid casual conversation.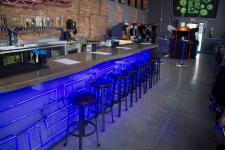 The Grid: Macrobrews are nowhere to be found at this Old Town gem that features hard-to-find Michigan and national craft beers to anchor its 40 taps. The adults-only playground appeals to hipsters and the young at heart with old-school video games and pinball machines. Vintage neon-light and arcade-themed decorations create an exciting atmosphere at the 226 E. Grand River Ave. hub of activity. You can challenge friends to top your high score or hang out and soak it all in, just make sure you've brought your "A" game.
 
Lansing Brewing: An all-in-one favorite, Lansing Brewing has craft beers and spirits, in addition to a wide-ranging food menu, that can be enjoyed on a patio in the summer or in front of high-definition, large-screen televisions for a big Spartan football or basketball game. The Stockhouse shuffleboard table will satisfy your competitive side while you quench your thirst. The light and airy space at 518 E. Shiawassee St. has been a Capital City staple since 2014.
Live music: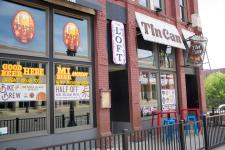 The Loft: A 400-capacity independent club that pulls in state, regional and national music acts as well as comedians working the club circuit. The Loft snags up-and-coming bands before they get big, such as arena-fillers like Twenty-One Pilots, Macklemore and Ryan Lewis and Danny Brown, showing the venue has no specific genre.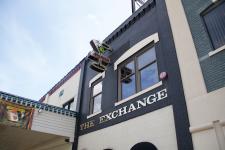 The Exchange: There's never a cover charge and never a lack of activity here as the club has live music every night of the week, from jazz and blues to open-mic evenings that give everyone a shot at performing for a crowd.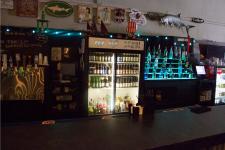 The Avenue Café: How can you not love a place that bills itself as "the home to local miscreants, live music, Michigan craft beer and damn fine whiskey" with room for 300 of your closest friends and strangers? The answer is you that you can't. Stop in for a little bit of everything here with pinball, pool and video games.  
Whatever your taste in food, drink or entertainment, a night on the town in Greater Lansing is easy to find.