As the old Alice Cooper song goes, "school's out for summer!" Many Michigan State University students have returned home until fall, giving grown-ups and families with younger kids the chance to have their run of East Lansing for the next couple months. 
Summer is the perfect time for a mid-week or weekend getaway to the home of Sparty, either for an adults-only escape or a memorable experience with the whole family. There's less traffic and a more relaxed vibe, and you'll find campus to be calmer and quieter than during the school year (unless you get a bit rowdy yourselves!).
To help plan your summer adventure, here are five ways to enjoy Michigan's biggest college town while the students are away: 
 Graduate Rock Bar – Greater Lansing's newest hotel features a must-see view from its 10th-floor rooftop bar, which includes an outdoor patio that's the place to be in summer. "It's something that this city has never seen before. It's a totally different angle on campus," said Rick Sauer, the hotel's director of food and beverage. "You can see the stadium. You can see the Breslin Center. Basically, the entire campus is laid out in front of you."
While a lot of bars and restaurants in town are geared toward MSU students, the Graduate Rock Bar attracts a more diverse crowd. The décor is an Up North cabin feel with some nods to MSU landmarks such as a giant rock – a la The Rock that's been on campus for nearly 150 years. The rock inside the Graduate Rock Bar sports the autographs of a growing number of current and past Spartan athletes. 
The Graduate Rock Bar is also known for its fried green tomato B.L.T., a great charcuterie board and a best-selling beer dip that pairs with soft pretzel bites. On the beverage side, in addition to a solid draft beer list and wine menu, you'll find cocktails including an adult Capri Sun served in a vinyl pouch!
Makers & Shakers Trail – Speaking of adult beverages, Greater Lansing's Makers & Shakers Trail includes more than 20 breweries, wineries and distilleries throughout the region – from Grand Ledge to Williamston and from St. John's to Mason. East Lansing is home to two stops on the trail: Ellison Brewery + Spirits, where the tap room has a cabin feel with stained wood and the work of local artists on the walls, and Red Cedar Spirits, which turns mid-Michigan's agricultural bounty into artisan vodka, gin, whiskey, bourbon and brandy.
For a family-friendly treat, check out the MSU Dairy Store where you can enjoy one-of-a-kind ice cream flavors such as Spartan Swirl and Buckeye Blitz.
Abrams Planetarium – A short walk from the MSU Dairy Store is another on-campus attraction that's fun for the whole family: Abrams Planetarium. Family shows on Sunday afternoons through the summer are geared for younger kids, while Friday and Saturday night shows make a great date night. "And we're a pretty cheap date, too," said Shannon Schmoll, planetarium director. "Our ticket prices are cheaper than a milkshake." There's even a free exhibit in the lobby that showcases a specimen from every known meteorite that has landed in Michigan.


On the first Saturday of each month through the summer, the planetarium hosts the Spartan Young Astronomers Club – a walk-in program for kids ages 8 to 12. And on select weekend summer nights, you can pair a planetarium show with a viewing at the nearby MSU Observatory where you can peer into the heavens using a 24-inch telescope with MSU astronomers on hand to answer questions. 
Albert EL Fresco – Pedestrians rule the road in East Lansing's Albert EL Fresco outdoor social space, which is closed to motor traffic through the summer. The stretch of Albert Street between Abbot Road and M.A.C. Avenue is a fun spot for people of all ages to hang out for a while. There's outdoor seating, picnic tables, hammocks, games such as cornhole and giant Jenga and a regular schedule of live music and free yoga classes through the summer.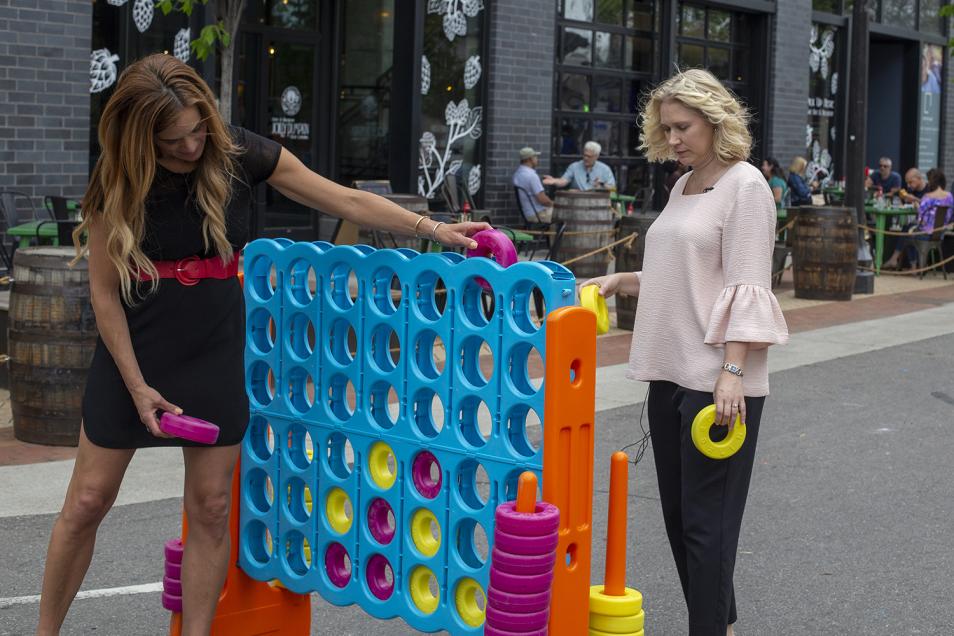 Those are just five ways to enjoy East Lansing in the summer. Of course, there also are free on-campus attractions including the Broad Art Museum at MSU, which offers a Family Day on the first Saturday of each month, the MSU 4-H Children's Garden, the W.J. Beal Botanical Garden with more than 5,000 plant species and the MSU Museum with three stories of fascinating exhibits and collections.


There are many great dinner spots in East Lansing, from the college town flair of Crunchy's to one of the area's largest sushi bars at SanSu Sushi to an upscale dining experience at the State Room inside the Kellogg Hotel & Conference Center.
After dinner, there's no shortage of summer entertainment to enjoy at MSU's Wharton Center for Performing Arts. Upcoming shows include Gordon Lightfoot, Vince Gill and John Mulaney.
As for where to stay on your East Lansing getaway, the new Graduate Hotel is a great option. Ditto for the Kellogg Center. For a bed-and-breakfast experience, check out Wild Goose Inn B&B. And if you're traveling with kids, try the East Lansing Marriott, where the kids will love the indoor pool.
Book your place to stay in East Lansing
Photo Credit: Tom Gennara, GLCVB, Stella Pyo