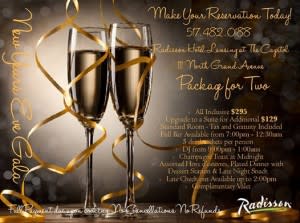 December 31st is the night when you dont have to make anything but reservations and plan to have a ball. You can celebrate the coming of a new year (Hello 2015!) and kick 2014 to the curb, celebrate the accomplishments and memories made in 2014 or celebrate just for the sake of celebration. Heck, everybody needs to let loose every once in a while. Am I right? So no matter whether you want to ring the New Year in with the whole family, a group of friends or just make it a couples celebration, Greater Lansing has some great options for you.
How does a romantic dinner for two at downtown Lansings Troppo sound? Or how about dining at the Capitol City Grille at the Radisson complete with a booked room? You can also make reservations at the lovely Bordeaux Wine & Spirits at the Crowne Plaza for a glitzy, glamourous Gatsby-style party. The choices are plenty and the night is yours to do as you wish.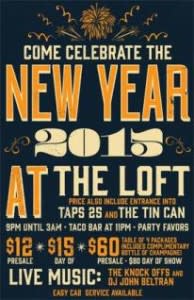 Now if the kids are in tow, and you want to make it a special family getaway, an overnight at the University Quality Inn where the kids will enjoy the pool while you sit comfortably poolside might just be the ticket. Then head next door to Spare Time Entertainment Center to find a whole lot of activities for everyone. Bowling, laser tag, arcade games and a great sports bar to fuel up at will make everyone happy.
For something a bit different, the Comfort Inn & Suites Dimondale boasts a room with a 1 p.m. check out and a shuttle service to and from the Michigan Princess River Boat. Ring in the New Year on board the Michigan Princess with a DJ, buffet, champagne toast and more! Note that tickets to the Michigan Princess sold separately.
For the whole gamut of options to ring in the New Year-Greater Lansing style, check out www.lansing.org/events/newyearseve.
Cheers toa safe, happy, healthy and prosperous New Year from all your friends at the Greater Lansing Convention & Visitors Bureau!