This post was submitted by guest blogger Matt Vande Bunte.
Distinctive brewpubs? Check.
Memorable burgers? Check.
"Nasty Woman Pancakes?" Yep. (We'll explain in a moment.)
Lansing has all that and more, serving it up with a unique Capital City flair that can be found nowhere else. From food trucks to fine dining, you can find whatever suits your palate – and your budget.
Whatever you are you in the mood for, here's a month's worth of our favorites for you to trying any order you'd like:
Breakfast
With fewer than three dozen seats, the line to get a table can be long at Golden Harvest, a breakfast joint in Old Town that is, uh, unique. The restaurant's logo is a skull and silverware. The long wait, the loud music and the sassy vibe make a trip to 1625 Turner St. an experience you won't forget. The menu changes regularly, and it's consistently hilarious. Don't forget to bring cash, no credit cards accepted.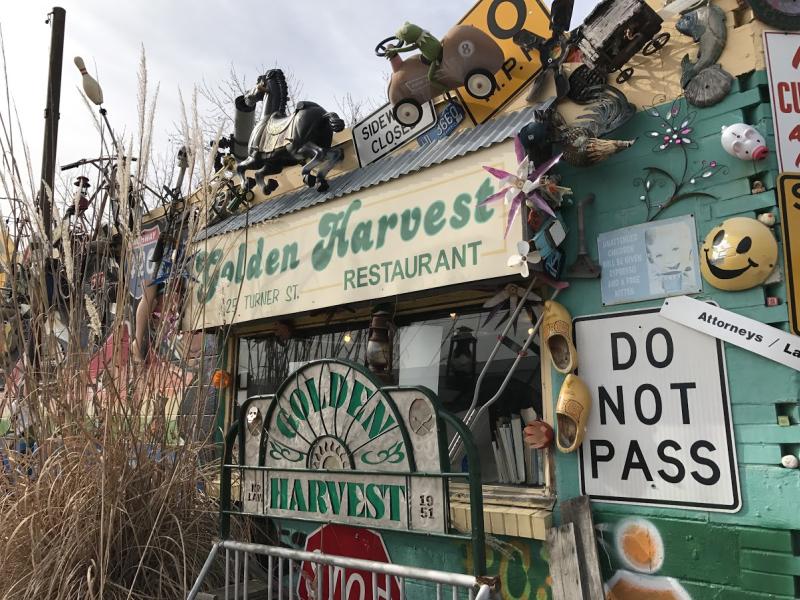 In recognition of the latest Star Wars movie, Golden Harvest served up "Bananakin Skywalker French Toast" and "Deathstar by Chocolate Waffle." The restaurant has cooked up "Big Butt Grits" and "Show Us Your Bloobs French Toast" with blueberries.
During last year's presidential campaign the menu featured "Nasty Woman Pancakes" and "Putin's Puppet Omelette," along with a "Thanks, Obamalette."
Whatever your political persuasion, the food at Golden Harvest will win you over.
Other great places for breakfast include: Good Truckin' Diner, Glazed & Confused, The Soup Spoon Café, and Sweetie-licious Bakery Café in DeWitt.
Burger and a beer
For a good 'ole burger and a beer, you can't beat Crunchy's. "The Famous Crunchy Burger" at the longtime watering hole in East Lansing is a half-pound of beefy succulence.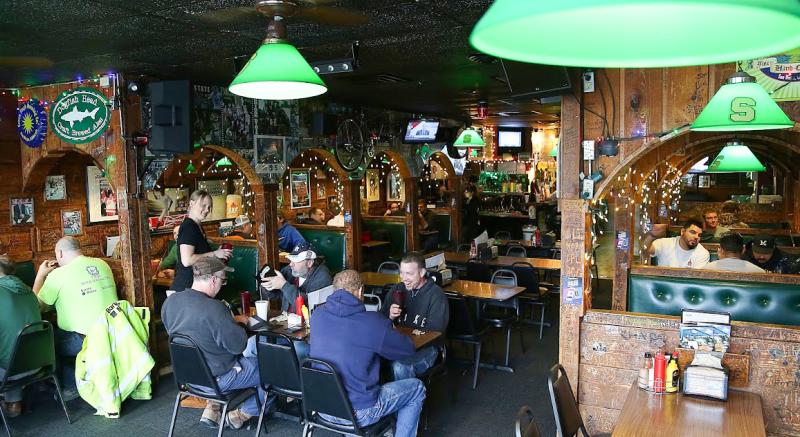 More ambitious appetites can order an entire bucket of burgers – or chicken sliders, fries, tots, rings, pretzels or pizza nugs. Yes, they literally are served in plastic buckets which, of course, can also be filled with beer. Cheers!
Years of visitors have penned their names on Crunchy's walls, which also showcase cool sports memorabilia. And there's a Ms. Pacman arcade game, too.
Other great bars to grab a beverage and a bite: FieldHouse, Harrison Roadhouse, Nuthouse Sports Grill, Reno's Sports Bar & Grill, Spartan Hall of Fame Café.
Makers and Shakers
At the dawn of the 20th century, people flocked to Lansing Brewing Co. to drink Amber Cream Ale. Then came Prohibition and the business closed. A century later, in 2015, a new Lansing Brewing Co. opened in the heart of the downtown Stadium District and now once again there's a full-scale production brewery within the city limits.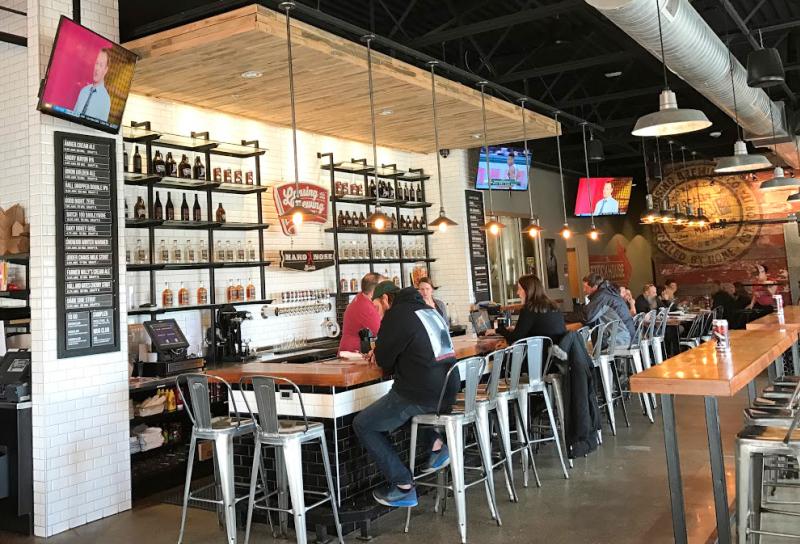 You can still get an Amber Cream Ale. If you prefer, the brewery makes "Angry Mayor IPA" in honor of Lansing Mayor Virg Bernero, "Udder Chaos Milk Stout" and several other beers. The menu also includes craft spirits, wine, and a full food menu that is as diverse as Lansing.
For other great brewpubs, wineries and artisan distilleries in the Lansing area, check out the Makers & Shakers Trail. You can try the "Red Eye Rye" at EagleMonk Pub and Brewery, the "Plaid Penguin" at Midtown Brewing Co. and the "Chocolate Covered Coffee Brown" at BAD Brewing Co., not to mention "Don't Think, Just Drink" at American Fifth Spirits. The trail features 14 destinations.
Fine dining
Evolving out of The Purple Carrot, Michigan's first farm-to-truck food stand, Red Haven, offers an ever-changing menu of unique tapas-style dishes. The brick-and-mortar restaurant at 4480 S. Hagadorn Rd. in Okemos sources local ingredients from around the Capital Region to turn your dinner plate into a work of art.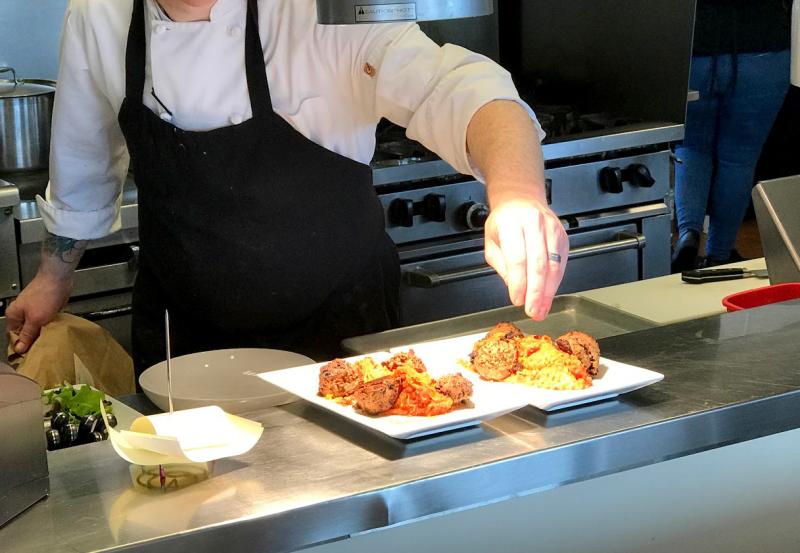 Named after a peach developed in 1940 by a Michigan State University professor, Red Haven is big on local food and drink – and décor: Woodwork in the restaurant was reclaimed from an old barn, and light fixtures are made of Michigan cherry boxes.
Other great places for fine dining: Bridge Street Social in DeWitt, Capital Prime, The Creole and The English Inn in Eaton Rapids.
The Purple Carrot still operates seasonally. For another great food truck, track down El Oasis.
A few more restaurants to put on the calendar:
The Cosmos – Wood-fired pizzeria with a connection to neighboring Zoobie's Old Town Tavern, plus duck fat fries.
DeLuca's – Family owned Italian restaurant and pizzeria using the same recipes for more than 50 years.
El Azteco – Authentic Mexican food with a rooftop patio in East Lansing.
Fleetwood Diner – Open 24 hours a day for Hippie Hash and other great diner fare.
HopCat – The bar is made from old gym bleachers, the lights are from an old church and the walls feature paintings of famous musicians by a folk artist who completed each work in under an hour.
Maru – Sushi bar has locations in East Lansing, Okemos and four other Michigan locales
Meat.bbq – Popular Southern barbecue and "carnivore cuisine" restaurant in Old Town
Knight Cap – Cozy, candlelit fine-dining steakhouse and wine bar offers intimate setting downtown
Roma Bakery & Deli – Grocery and deli known for European-style breads, rum cake torte, cannoli and almond paste cookies
Sansu Sushi – Fusion of traditional Japanese dishes with modern American tastes, in East Lansing