The latest and greatest 2016 Greater Lansing Visitor Guide for Michigan's capital region is now available and hot off the press. You can currently find the new guideat the Lansing and Meridian Malls and of course at either of our Visitor Centers in downtown Lansing and downtown East Lansing. We will be getting them out next week to area hotels and attractions. You can request a guide to be mailed right to your house or you can view it online. Heres the link to get your guide the way you want it.
10 Great Reasons to Get Your Copyof the 2016 Greater Lansing Visitor Guide.
Capital Communities Did you know that Lansing and East Lansing are surrounded with multiple charming communities? I love walking the main streets of Grand Ledge and Williamston to get that down-home feeling and hospitality that comes with a typical Midwest town.Weve got a list of what to see, do, eat and discover there and in all the other ones as well.
Festivals & Events This is my go-to list for the bigger events throughout the region. It's a 4-page spread and is why I never findtime to get to other Michigan destinations. Like we always say, Greater Lansing is the festival capital of the state!
Attractions Did you realize that within a 5 block radius and a quick 5 minute walk that there are 5 major attractions to keep you busy for a full weekend just in downtown Lansing? Talk about a walkable community!
Makers & Shakers Trail Since I made the cover of the brochure for this craft beer, artisan distillery and local winery trail, I kinda feel like this is a big deal. Weve got over a dozen places that make their own delicious, and unique product and its awesome.
Top 10 Things to do at MSU Michigan State University is not only home to some great Big Ten athletics and high level education, it also has some great places for visitors to check out without ever having to step foot in a classroom. You can find everything from touring Broadway productions, a planetarium, a world-class modern art museum and the freshest and most delicious ice cream ever.
Recreation & Relaxation There are way more than 14 things to discover along the Lansing River Trail. Walk, bike or run the trail and find Potter Park Zoo, Impression 5 Science Center, R.E. Olds Transportation Museum and more along the way. Start in Old Town and end up at MSU. This trail is one of Lansings best assets.
Sports & Leisure Minor League Sports=Major League Fun. We are so lucky that we not only have the Lansing Lugnuts minor league baseball right downtown, but we also have Lansing United soccer team and Capital City Stealth Football team to cheer for!
Accommodations From the brand new Hyatt Place to the romantic English Inn, weve got all kinds of places for visitors to rest their weary heads at the end of the day. Heaven knows, youll need your rest because theres over 150 things to do and only 48 hours in a weekend in Greater Lansing!
Dining & Nightlife Delicious breakfast spots are called out, as is great sushi and hibachi establishments. The Visitor Guide breaks the restaurants out in cuisine categories so that if youre looking for Mexican food you can find it.
Greater Lansing Map The map in the Visitor Guide gives you a nice overview of the area, a great downtown map, a map of the Makers & Shakers Trail and an overview of Michigan State University. It will get you from point a to point b with ease.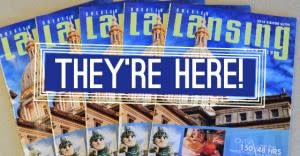 Did you know that Greater Lansing offers over 150 things to do? With only 48 hours in a weekend, the clock is ticking. Download the LAN150 Bucket List to get started.