The weather has been teasing us with warmer temps recently followed by cold nights and cold winds, yet the sun has been consistent. Were nearing the end of March and Aprils siren song promising warm and sunny days ahead tempts us to start outdoor projects and to dream landscaping dreams. So when the Home & Garden show comes round, it is with a spring in my step (and Spring in my heart) that I head over to the MSU Pavilion on the corner of Mt. Hope and Farm Lane to immerse myself in everything I ever wanted to know about home improvement and landscaping ideas.
I can smell the earth and the spring flowers when I enter the pavilion and its heady stuff for a gardener. If youve got the itch, I urge you to make plans to get over there to find seminars from the Renegade Gardner, Don Engebretson or find some backyard grilling tips from Grillogists Mad Dog & Merrill. For those of you who are just tagging along dont miss the 4k Home Theater Experience. This expo is wall to wall awesomeness. As far as Im concerned, wandering through the huge landscape set-ups and checking out the huge floral competition is what its all about. Id happily just sit there all weekend surrounded by all that beauty and lush environs. Its definitely Spring inside this show.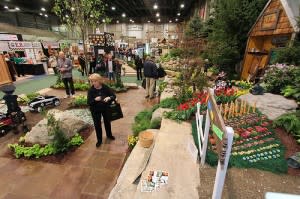 What: 19th Annual Lansing Home & Garden Show
Where: MSU Agricultural Pavilion 4301 Farm Lane, East Lansing, MI
When: Thursday, March 19 3-9 p.m.
Friday, March 20 Noon-9 p.m.
Saturday, March 21 10 a.m.-9 p.m.
Sunday, March 21 10 a.m.-5 p.m.
Admission: Adults $9, Children (6-14) $4, 5 & under Free. Find discount weekday admission coupons at participating Wendys and Quality Dairy locations.
More information: www.lansingHomeShow.com
Did you know that Greater Lansing offers over 150 things to do? With only 48 hours in a weekend, the clock is ticking. Download the LAN150 Bucket List to get started.