Whoa! Im super excited about seeing this car. Its a 1903 Curved Dash Olds that was R. E.s own vehicle. Its probably the one he parked in his garageon a turnstile. Did you ever hear about that? In the early 1900s, Olds built a large home on S. Washington Ave and amongst the many technological innovations he put throughout the house (like an intercom system), was a turntable in the garage. That way he drove the car in at night, then by using the turntable, pulled out of the garage without having to drive out in reverse. What a clever man! Sadly, this beautiful house was razed and we now have Olds Freeway (i-496) in its place. Ironic? Maybe, but a little birdie told me to stay tuned, because that turntable may have been located. That would be cool to have at the R. E. Olds Transportation Museum, right?
So I dont need to tell you that this car is special. Olds donated this car to the MSU Engineering Department in the 1940s. Here was a man who had great ties to that college. Did you know he donated $100,000 to rebuild the engineering building after a fire destroyed it and the college was thinking of discontinuing the program? But he didnt want it on display at Olds Hall. He wanted it somewhere where the public could see it and the MSU Museum was that place. And as part of the MSU Museum collection, and stored away for years, Im very happy to see that it will be on display once again, in a museum dedicated to the automotive history of Lansing-the R. E. Olds Transportation Museum. Its a fitting place for such a historic vehicle.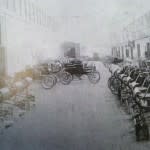 So Im heading over to Spartan Stadium on Tuesday morning to see them bring her out of storage. I hear shell be joined by some other antique vehicles as a tribute to Lansings most innovative, ingenious and philanthropic son, Ransom Eli Olds. Maybe it will be like a mini parade. And I love parades.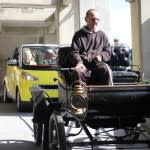 And here is a YouTube video also of the Curved Dash getting moved out of Spartan Stadium.