Our Mission
The mission of the Greater Lansing Convention & Visitors Bureau is to positively impact the area's economy by marketing the region as a travel destination.
What that boils down to is we want you to love Greater Lansing just like we do. Whether you're traveling for a sports tournament, professional conference or to visit our many attractions, we want your trip to be successful, memorable and, of course, just plain fun.


Green Initiative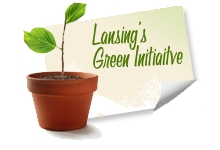 The Greater Lansing CVB is committed to sustaining the environment and encourages "green" practices, both internally and throughout the hospitality community. The Bureau strives to serve as a resource for event planners to help them reduce their carbon footprint while they host their meeting in Greater Lansing.

To learn more about environmentally conscious practices in the Greater Lansing hospitality industry, click here.