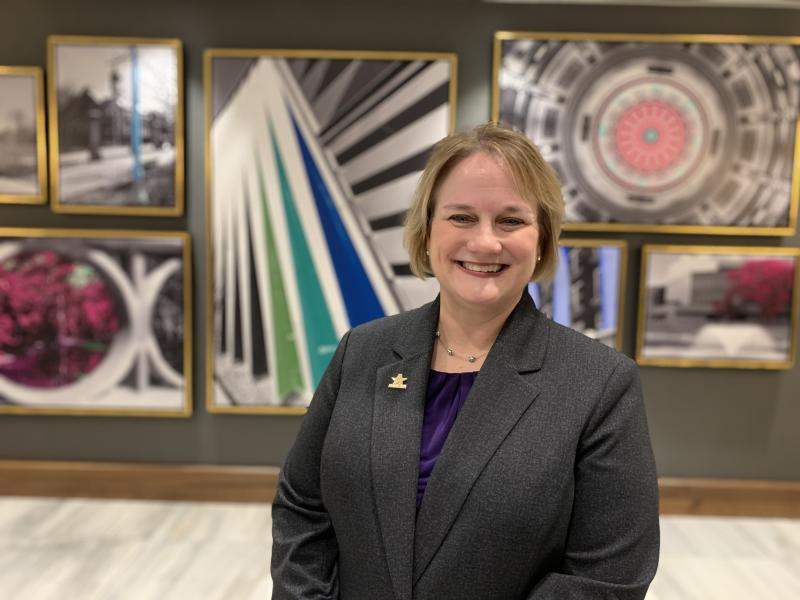 LANSING, Mich.-- The Greater Lansing Convention and Visitors Bureau (GLCVB) Board of Directors is pleased to announce it has selected Julie Pingston, CDME, CMP, CTA as its next President/CEO.
Pingston is the current Executive Vice President and Chief Operating Officer and has been with the GLCVB for 27 years. Her responsibilities included overall organization operations, as well as, direct oversight for convention services, membership, event coordination, the Greater Lansing Sports Authority, the East Lansing Visitor Center and the Certified Tourism Ambassador Program.
The GLCVB Board of Directors established a search committee and hired Searchwide Global to conduct a national search to replace retiring CEO Jack Schripsema. 
"The search committee was impressed with Julie's vast hospitality experience at the state and national level along with her strong community partnerships," said Eric Sudol, GLCVB Board Chair and general manager of the Marriott East Lansing. "After an extensive review process, we feel confident we found the best candidate to lead the organization. Her deep industry knowledge and institutional tenure makes her uniquely qualified to lead the GLCVB successfully into the future. We look forward to great things from Julie and her team going forward."
Pingston's new role as CEO will include implementing the organization's budget and business plan, developing relationships and collaborations with relevant stakeholders and maintaining positive relations with clients, GLCVB members and industry peers. She will assume the leadership position on March 16, 2020.
"I am beyond excited to be named the next President/CEO for the CVB. I've dedicated my career to the tourism and hospitality industry and am honored to be able to do what I love in mid-Michigan. I'm looking forward to working alongside the Board, staff and other community leaders to help drive visitors to the Greater Lansing region," said Pingston.
After graduating from Alma College, Pingston began her career at the U.S. Department of Commerce in the U.S. Travel and Tourism Administration in Washington, DC. She found her way back to Michigan in 1993, joining the GLCVB as the convention services manager. Pingston has added increased responsibilities over her 27-year tenure including being named COO in 2006. Some of Pingston's most notable accomplishments at the GLCVB include: creating the first Certified Tourism Ambassador Program in Michigan, developing Lansing's Sensory Friendly Destination initiatives which have been recognized as best practices at the state and national levels, and facilitating the development of the region's first master plan for tourism.
Pingston sits on several boards and serves as Past President of the Tourism Industry Coalition of Michigan, the board President of the Potter Park Zoological Society and President Elect of the Rotary Club of Lansing. She has received numerous industry accolades including Michigan Meetings and Events Magazine's Hall of Fame Inductee/Supplier of the Year, South Lansing Business Alliance Alfreda Schmidt Lifetime Achievement Award and a Governor's Award for Innovative Tourism Collaboration for her work in developing the region's Sensory Friendly initiative.
Pingston resides in Holt, Michigan with her husband Steve, and has two adult children, Jacob and Allison. 
For more information about the GLCVB, visit www.lansing.org or call 517-487-0077.
The mission of the GLCVB is to promote the region as a visitor destination to impact the area's economy.
###