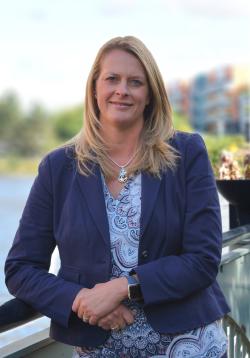 LANSING, Mich.-- The Greater Lansing Convention and Visitors Bureau (GLCVB) is pleased to announce it has hired Melissa Nay, CTA as Membership Manager for the organization.
Nay comes to the GLCVB from WKAR-TV and Radio where she was the Director of Corporate Development for six years. Previously she was a Sales Manager with the Lansing State Journal for 12 years. Nay holds a Bachelor's Degree in Advertising from Michigan State University, sits on the Board of Directors for the University Club of MSU and serves as Past Chair for ATHENA WIN and on steering committees for Habitat for Humanity, Child and Family Charities and The Wharton Center.
"Continued growth of our membership base is an important part of the future plans of our organization," said Jack Schripsema, President and CEO of the GLCVB. "We are confident that Melissa's experience and valuable community relationships will make her a perfect fit for this key role."
For more information about the GLCVB, visit www.lansing.org or call 517-487-0077.
The mission of the GLCVB is to promote the region as a visitor destination to impact the area's economy.
###