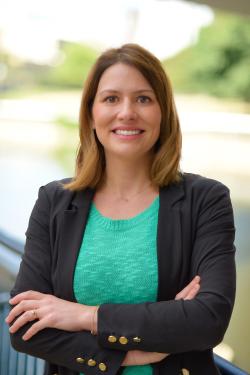 LANSING, Mich.-- The Greater Lansing Convention and Visitors Bureau (GLCVB) is pleased to announce it has hired Hannah Kroll, CTA as Sales Manager for the organization.
Kroll comes to the Greater Lansing CVB from the Kellogg Hotel and Conference Center where she performed three different increasingly demanding roles over the last 8 years. Kroll holds a bachelor's degree in Hospitality Management from Central Michigan University and is an active member with the Michigan Society of Association Executives and the Society of Government Meeting Planners.
Hannah's role with the CVB will include growing the meeting and events market within Michigan State University as well as generate meetings business with the regional and national associations market.
"Continued growth of our relationships within MSU is an important part of the future plans of our organization," said Jack Schripsema, President and CEO of the GLCVB. "We are confident that Hannah's experience and valuable community relationships will make her a perfect fit for this key role."
For more information about the GLCVB, visit www.lansing.org or call 517-487-0077.
The mission of the GLCVB is to promote the region as a visitor destination to impact the area's economy.
#