The prestigious Star Award for the CTA of the Year was presented at our fourth annual celebration on December 9 at the Old Town Marquee.
Congratulations to this year's CTA of the Year Skyin Yin (pictured right)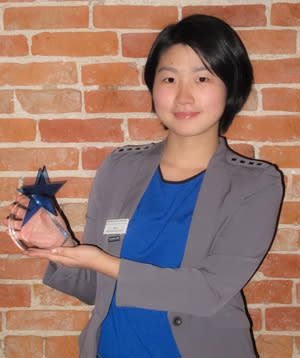 , CTA, Communications & Experiential Learning Coordinator with the Office of International Student and Scholars at Michigan State University!!!  According to her nomination,
"Skyin is passionate and enthusiastic about exploring the region to learn more about the things to see and do.  In her current role as an international student advisor at MSU, Skyin shares what she has learned with fellow Chinese students and gets them to explore on their own.  International enrollment currently makes up 13.5% of MSU's total enrollment and there are over 4,500 Chinese students.  Skyin has helped our community by providing valuable insights to the GLCVB about the patterns and needs of the visitors that travel to our region to visit the students.  She has gone above and beyond to help us understand cultural nuances and better ways to welcome international visitors."
Other awards presented included:
Queens of Renewal Points: Joyce Grinczel, Dart Container and Ashley Meyers, Hampton Inn East Lansing
CTA Pride Award: Robin Babcock, Crowne Plaza Lansing West and Jeff Magnuson, The Henry Center for Executive Development
CTA Employer of the Year: Lansing Center/LEPFA