This week, May 6-12, 2018, is National Travel & Tourism Week. Tourism in Greater Lansing accounts for over 11,000 local jobs, 4.8 million annual visitors and $602 million in economic impact. Last year, Greater Lansing residents earned $140 million in wages working in the tourism industry and then used that money building a life in our community. 
What is 517 Day?
The GLCVB and the CTA will be promoting Lansing 517 Day. This is a day focused on showing your love for Greater Lansing, on May 17th and our 517 area code. We ask that you show your love on social media by using our 517 icon, #517day and posting your favorite pictures of the Greater Lansing area.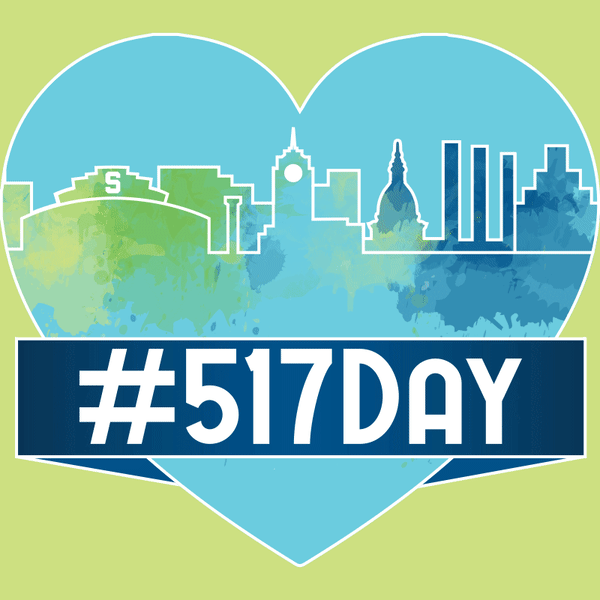 It you would like to share this image, right click (long press on mobile devices) and save this link.
How Can You Celebrate?
Head to the Inaugural Lansing Made 517 Day: A Community Celebration from 4 to 7 PM on May 17. Hosted by Lansing Made & River Town Adventures. There will be food, fun activities and cool things to see at this interactive family friendly event. And it is FREE. Ride your bicycle or tricycle. Take a float down the river. Walk the river trail. Have fun exploring downtown Lansing as you make your way to the Lansing City Market where there will be much more fun to have:
​Music
Mark Grinnell
Cindy McElroy
Big Will
Dancer Gary Vaughn from Dance Central
Food & Product Vendors
517 Shirts
517 Coffee Co.
Fire and Rice
Got Smoke BBQ
Groovy Donuts
Groups
Capital Area District Library
Child & Family Charities
East Lansing Roller Derby I Mitten Mavens
The Fledge
Glad Walking Tours
Helping Women Period
Ingham Great Start Collaborative Co-Coordinator
Joy Ride Pedal Tours
Lansing Board of Water & Light
Lansing Derby Vixens
Lansing Fire Department
Personalities
Mayor Andy Schor
Ghostbuster Mobile, hearse and KITT from Knight Rider
Mayor of Williamston, Tammy Gilroy
Art
Allegro Modern Imagery
Jennifer Jean Designs
Margaret Ross Jewelery Design Studio
Territory 50
Jive One 7
MI Fruit Drinks
Shove It Pizza
Whipped Bakery
Lansing Parks & Rec
Lansing United
Moneyball Sportswear
Mother and Earth Baby Boutique
Preuss Pets
Rassel-Daigneault Family Chiropractic
Shaheen Chevrolet
Strength in Numbers Studios Video Game
WKAR with Dora the Explorer
Woldumar Nature Center
The Women's Center of Greater Lansing
Local Deals & Offers
Get your 2018 Be A Tourist Passports early, with a Buy One Get One Free sale at both the GLCVB locations.
Will offer 20% of all Lansing themed products!
Freebies from Zoobies, Cosmos, The Creole and Punk Taco with proof of a Lansing address & the purchase of an alcoholic drink!
This event features beer and wine samplings from select Michigan breweries and wineries, fabulous hors d'oeuvre samplings from Lansing restaurants, live music and exclusive access to see Potter Park Zoo's animals after hours. Eat, drink and celebrate spring with the animals while you support a great cause - Potter Park Zoo! Click here for tickets and details!
Lansing Art Gallery & Education Center will be open to the public with free admission from 11 AM - 6 PM where guests can view (and purchase) work from over 100 Contemporary Michigan artists. Our Education Center is open with free hands on activities for all ages!
Will be offering BOGO admissions (of equal or lesser value) and 10% off in the gift shop when visitors mention #517Day or #LoveLansing
The first 7 people to email the Director of Sales, Melissa Terry, at mterry2@pyramidhotelgroup.com between 5:17 am and  5:17 pm on 5/17 will be eligible to purchase a gift certificate for a one night stay in a studio suite for ONLY $51.70*!!! 
*Plus applicable taxes. Gift certificates will be valid through 5/17/19 and subject to availability. Not valid for MSU home football weekends or MSU graduation. Studio suites feature one queen sized bed. Please make sure to include the subject "517 Pride" when emailing.
Tour meets in the board room in the LCC Administration Building.
Step back to the turn of the 20th century when Lansing's German families lived close together in some of the city's most fashionable homes. Then known as Germantown, this neighborhood, and the families living in it, were forever changed by WWI.
On May 17, 2018 in recognition of the Lansing area zip code (517), Phil Denny's Armory Smooth Jazz Fete GENERAL ADMISSION tickets are being discounted to $30 ($42 regular price) for one day only. We are only offering a LIMITED QUANTITY of these tickets, so be sure to visit www.smoothjazzfete.com on 5/17/18 to take advantage of this promotional offer. THIS WILL BE THE ONLY TIME GENERAL ADMISSION TICKETS WILL BE DISCOUNTED! Please feel free to share with friends. We look forward to seeing you in the lawn at the 2nd Annual Phil Denny's Armory Smooth Jazz Fete.
River Town Adventures will be offering 1 hour single kayak rentals for $5.17 all day!
Join others at Lansing Brewing Company on May 17 and 18!
4 Beers I 3 Laps around Cooley Law School Stadium with Lansing Brewing Co. and Playmakers
Do you #LoveLansing? Do you love art? Have you downloaded the Arts Council of Greater Lansing's 517 ARTsearch app? Well you should, because it's awesome and, well...PRIZES! Celebrate 517 Day by taking pictures of yourself (and others) with art discovered using the app. Share your photos on social media with the hashtags #517ArtSearch, #LoveLansing and #517Day and tag the Arts Council (@artscouncilgl), and you could win one of several $5.17 gift cards to local businesses. You can also be entered into a grand-prize drawing for a collection of local art items (valued at $100) if you post your photo between 5:17 and 6:17 p.m. on 5/17/2018.