Greater Lansing Community Champions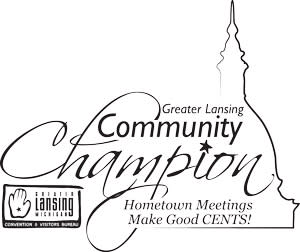 The Greater Lansing Convention and Visitors Bureau (GLCVB) is proud to acknowledge local individuals who assist the GLCVB in securing meetings, conventions or other events for the Greater Lansing region. The name and theme of the special program is: Greater Lansing Community Champions; Hometown Meetings Make Good Cents!
The Community Champion program is intended to appeal to the civic pride of local residents by providing well-deserved recognition to the individual and their organization as well as educating area residents on the positive economic impact to the local area.
"Our hope for this program is that it will shed light onto the significant efforts being made by community stakeholders to keep their hometown of Greater Lansing in the forefront as host-city for key meetings and events throughout the year," said Jack Schripsema, President and CEO of the GLCVB. "When events are held in Greater Lansing the local economy gets a big boost. That impact generates $472 million in spending and supports over 7,200 local jobs. This program is a small way of saying thank you to those who champion our many local resources."
See our list of recent honorees below.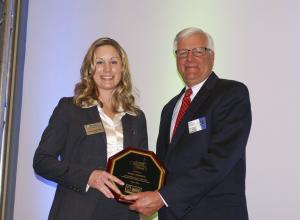 Sarah Jennings - ATHENA International
Sarah was recognized for her involvement with ATHENA International through the local ATHENA WIN Chapter. In September 2016, Lansing will host the 35th Anniversary Leadership Conference for ATHENA International. The event will bring hundreds of professional women from around the country to the community for three days of world-class inspiration, motivation and business networking. Sarah is working with the team from ATHENA International and a local organizing committee to plan a first class event in the ATHENA's founding city, Lansing, Michigan.
Gwendolyn Bodiford - 130th African Methodist Episcopal Church Michigan Annual Conference
Trinity African Methodist Episcopal Church, founded in 1866, is one of the first three churches established in Lansing and is celebrating its sesquicentennial (150th) anniversary this year. The celebration includes hosting the 130th Session of the Michigan Annual Conference of the African Methodist Episcopal Church Fourth Episcopal District in August and several community and District commemorative events in October. One of the goals of the conference is to highlight the Greater Lansing region and give all participants an opportunity to experience just what a gem Lansing is to the state of Michigan. This single event will welcome over 1,500 guests to the community.