They say the grass isnt always greener on the other side. Well, thats mostly true, except for when its on the other side of Michigan wintersthen, its way greener. Perhaps even more exciting than the revitalized state of the outdoors (well, certainly more important in our book) is the abundance of fun things to do that are available during the summer months.
To help you get started on your summer plans, weve compiled a list of ten things that everyone should do to have a classic #LoveLansing summer. To view even more ideas,visit our Summer Fun page.
Attend Common Ground Music Festival

Easily considered one of the hottest summer festivals and events in Michigan,Common Ground Music Festivalis known for bringing national headlining artists along with regional favorites to the area. Common Ground will take place from July 7-12 this year and will feature artists such as Meghan Trainor, Snoop Dogg, and The Band Perry. Cant attend Common Ground? Dont fret. There are almost 30 other festivals you can choose to attend this summer.View the complete list of festivals here.

Walk, Bike or Paddle Down the Lansing River Trail

Whether you choose to walk it, bike it, or paddle down it, we just suggest you get on it! TheLansing River Trail, one of the most fun things to do in Michigan, is over 13 scenic miles long and winds through attractions like theBrenke Fish LadderandPotter Park Zoo. Kayaks, canoes, and paddleboards can be rented atRiver Town Adventureslocated at theLansing City Market.

Shop at a Local Farmers Market Summer is prime time for vendors from throughout the state to sell their fresh veggies, homemade soaps, cut flowers, and other artisan goods. With over 22 farmers markets in the Greater Lansing area, you are sure to find one located near you.View the entire list here.

Cool Off at the East Lansing Family Aquatic Center Looking to beat the summer heat with some fun things to do in Michigan? Spend a day splashing around at theEast Lansing Family Aquatic Center. This 3,000 square ft. splash pad is perfect for kids of all ages to enjoy because of its various structures, including a 200 ft. water slide, zero-depth leisure pool, and more.

Brake for Summer Break at Impression 5 Science Center

Just because school is out doesnt mean that learning should stop! Summer is the perfect time to take the family on a day trip toImpression 5 Science Center, where learning disguises itself in the form of interactive fun.

Scream for MSU Dairy Store Ice CreamIf you need an excuse to eat ice cream, youre in luck because we have not only one but two. First is the summer heat, and second is theMSU Dairy Store. The MSU Dairy Store makes all of its ice cream onsite, and it is some of the best youll ever taste.

Hop on the Makers & Shakers Trail

While theMakers & Shakers Trailis technically a new addition to the Greater Lansing scene, taste-testing locally made wines, brews, and liquors is a classic interest of many. Take some time this summer to visit some, or all, of Greater Lansings breweries, wineries, and distilleries.Click here to start planning your tasting tourand to look at other planned events in Michigan.

Catch a Lansing Lugnuts GameIs there anything more classic than watching aLansing Lugnutsbaseball game on a summer night? We didnt think so. Every game is one of the most exciting events of the summer.View their schedule here.

Visit the Animals at Potter Park Zoo

Summer is not complete without a visit to the zoo. This summer,Potter Park Zoois allowing visitors to get even closer to the animals with its current exhibit,Wings from Down Under.

Explore the 4-H Childrens GardenSummer wont be here forever, so you better get in a visit to the gardens while you still can! The4-H Childrens Gardenhas over 55 themes like the Pizza Garden, Peter Rabbit Herb Garden, and the ABC Garden, and it is a great place to go to take in the beauty of nature..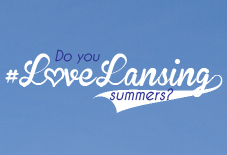 Show us your favorite discoveries and fun things to do on Pinterest for the summer months and you could win a $100 Visa gift card! View contest details here. Deadline to participate is June 30, 2015.