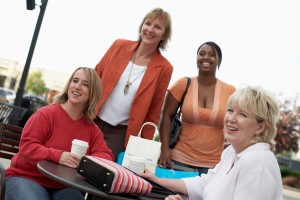 Okay, Ill admit that Im not a very traditional girly kind of girland never have been. I think I may have had a manicure twice-maybe three times in my life. And Im not a big fan of shopping. But I do like to drink wine, and act silly with my girlfriends. And a girlfriend getaway or get-together is one of my most favorite things to do. So with that said, I present to you some girlfriend getaway ideas for Greater Lansing. Some are what you might traditionally envision, and some are a bit different. But they will all guarantee a good time when youre with your BFFs.
ENJOY........
Polka Dots Bead-a-full Boutique Schedule an after-hours party. Make some jewelry, sip some wine. Then buy some pre-made adorable stuff, too.
Painting With A Twist Paint a painting, sip some wine and get really creative. Then swap the paintings with each other.
Burgdorfs Wine Tasting /Wine Making Schedule a group to head up to Burgdorfs for a little tasting and a little wine making. Then come back 6 weeks later to bottle, cork and label your own wine as Best Friends Forever Wine.
Shop till you Drop - From the unique boutiques of Old Town to the Eastwood Towne Center and beyond to Tanger Outlet Center in Howell, you can spend a day or two just shopping. Share some retail therapy with your friends.
Spa Time And speaking of therapy, whether you need a manicure, pedicure, massage or reiki healing, theres a good amount of me time to be found in Greater Lansing.
Golf - Hawk Hollow properties are renowned if everyone is a good golfer but for a sweet course that any golf-ability can enjoy, Little Hawk offers an hour or so of challenging putting with water hazards, sand traps and hilly terrain. Not a windmill in sight.
Demmer Shooting Center Okay, this is a bit non-traditional, but I think its a fun option. With a pistol range and archery target practice, this is a fun alternative outing.
Lansing Lugnuts Make it a Ladies Night at Cooley Law School Stadium. A summer evening at the ballpark can be a great time to spend with your girls. Upgrade to a Clubhouse seat and enjoy the game from the comfort of the Clubhouse!
Zap Zone - Yes, laser tag can be a fun way to bond and get a great workout at the same time. This is a nice big facility with multiple levels. Make up some teams or be on your own.
Craft Beer or Wine Crawl Night - With the Entertainment Express darting between downtown Lansing and downtown East Lansing, theres no reason not to make up a progressive wine or beer tasting outing. P-Squared, Midtown Brewing Company, Taps 25, Beggars Banquet or Crunchys come to mind as some options. I am not responsible if you have way too much fun at one place and never make it to the others.
***Check out the Ultimate Getaway Package to get great pricing on overnight stays and great deals in Greater Lansing!!!