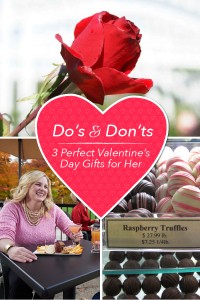 Valentines Day is just around the corner and since my coworker Brendan just wrote about great gifts to get the man in your life, I thought it only fair that I should share the womans side of things. Lets get one thing straight. If you think Valentines Day is geared toward women and what makes them feel loved, then Im going to say that youre pretty much correct. Women (and I actually mean me) tend to have a tangible love language and want to be reminded that they are oh so very special. They want to know that they are loved and cherished and the traditional gifts of flowers, candy and a card never go out of style. So heres the skinny on Valentines Day gift giving
DO! If your woman goes to work, for heavens sake send flowers to her workplace. Theres nothing better than showing off your mans love for you in a tangible way. Yep. We women love to have a nice bouquet of flowers on our desks that receive admiring and even envious glances from co-workers. Hit up Smith Floral. Theyll fix you right up. DONT! do the funeral rose bouquet. Thats the one-sided ugly thing that might look great at your Great-aunt Coras viewing, but not on your desk. EVEN BETTER! Go for a beautiful spring-time bouquet or a basket of wildflowers that she loves. Roses are not always the go-to, unless she really loves roses.
DO! Let her indulge in her favorite chocolates. If thats Godiva, imported chocolate or simply Reeses peanut butter cups, get her what she loves. If you know she digs through that Whitman Sampler looking for the butter creams, then get the woman some butter creams. DONT! I cant emphasize this enough. Dont swing by the Speedway and grab something. DONT EVER. Just dont. EVEN BETTER! Go early (unless you want to be standing outside in line in freezing temps) to Fabianos and hand pick her favorite chocolates. Butter creams, nut chews, toffee crunch. Theyll put together a box for you.
DO! Find a card that expresses how you feel. DONT! Dont ever skip the card. Thats something she can tuck away and look at from time to time as a reminder of your love long after the flowers have died and the chocolate has gone straight to her hips. EVEN BETTER! Whether you have writing skills or not, write a note that tells her how much she means to you or how great a wife, girlfriend, mother to your children she is and she will truly appreciate it. Find a poem online and write it out by hand on a blank card but make sure you attribute it to the author. No need to pretend you wrote it. The fact that you did some research and took the time to write it out means more than signing your name to a generic card.
So you can see that you dont need to break the bank or take out a loan to demonstrate your love. Diamonds? Meh. Be sincere and thoughtful and your lady will be happy. And, in turn, so will you. Happy Valentines Day!
Greater Lansing offers over 150 things to do. With only 48 hours in a weekend, the clock is ticking. Download the LAN150 Bucket List to get started. www.lansing.org/LAN150